More commission?
Yes, please.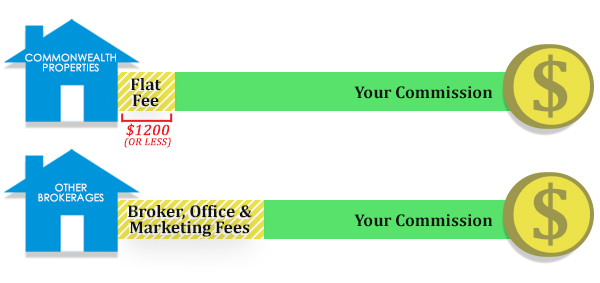 Flat Transaction Fees!
No more splits based on sales price.
We're seeking experienced real estate agents who want the freedom to work independently, the convenience of a local office and the benefit of one flat fee for all of their transactions, regardless of the size of the sale.
No more worrying about splits or percentages – you pay a single transaction fee for each closing, and keep the rest of your money. Our standard transaction fee is:
$1,200 per sales transaction*
$500 per rental transaction
*High volume agents may qualify for a reduced fee.
How Does It Work?
Instead of having a split commission percentage with the brokerage, you pay a flat fee to the brokerage and keep the rest of your commission. It's that simple.
- No other costs or fees
- Simple fixed transaction fee
- We handle all of the back end for your transactions (escrow, E&O, state compliance, office support, etc.)
This is a straightforward, beneficial work structure for seasoned agents who prefer to work on their own schedules with minimal need for administrative support. For those who are already out there finding their own clients and providing their own signage and marketing, our office allows you to keep much more of your earned commission in your pocket.
Benefits to You
This is a no-frills arrangement that makes you more money and keeps transactions simple. Members of our team also receive:
- Peace of mind knowing exactly how much the brokerage will collect per transaction
- Flexibility and convenience of a cloud-based office system with a local office location
- Never pay fees for desk space, marketing, affiliation or other fees
- Online access to all necessary transaction forms
- Company email address
- No NAR fees
About Commonwealth Properties

Commonwealth Properties is a top-tier boutique real estate brokerage representing buyers, sellers and real estate investors throughout Massachusetts. We are a team of committed professionals who deliver results. Our backgrounds in sales, law, marketing, property management and renovations provide a wealth of knowledge for both clients and agents.
Want to learn more? Fill out the contact form above or call our office at 617-600-8415.